Kamala! JYD! Skandar Akbar! Come back!
Ok, let me start off by saying that I never got into wrestling as a kid. In my defense, I moved to Lafayette from Ohio (where there was no wrestling) in 1984 (I think), and by that point Midsouth had gotten pretty watered down from it's glory days and was pretty much in pre-WWF mode. I couldn't get past the obvious pre-planned aspect of the events, and also the whole grabbing a dude by his dick and lifting him over your head thing bothered me a little. (Now it's all good, I do it all the time.)
A few years ago I was talking with a guy I worked with who was quite a bit older than me (RIP, Clayton) about the old days of wrestling. He told me that Midsouth used to have events at what I think is that building next to the University underpass that's now a flea market. It sounded crazy, they were just a ring with a bunch of folding chairs set up around it, guys cutting their heads, flying out into the audience, etc. He said a lot of the times the security guys had to protect the wrestlers from the audience. It made me understand the whole appeal of wrestling back in the day.
It wasn't about whether it was real. It was about the entertainment. Sure it was fake. Sure it was planned out. But the guys were still beating the crap out of each other in the ring. They were really cutting their heads and that was really their blood splattering all over the place. I mean nowadays people pay $30 to see idiots like Steve-O staple his ass and cut his tongue with a razor blade and everybody acts like it's the most insane thing they ever saw. These guys did the equivalent every week for 30 years.
So anyway, that's what led me to start looking up the
old wrestlers
on the web. So here are a few photos I'd like to share (not necessarily all Midsouth). In this order, I give you: Kamala and some other fatty doing the nasty dance; Rowdy Roddy, everyone's favorite kilt-wearing bagpipe-playing asshole; Ric Flair in his earlier hippier days; Andre the Giant with a bushel o'babes.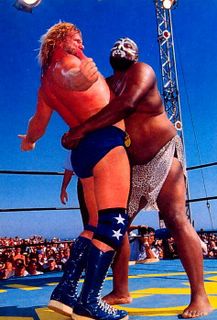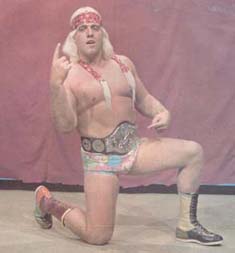 If you need a refresher course,
Kamala
was also known as The Ugandan Giant from Parts Unknown. If this seems like a contradiction in terms being that his title states where he's from, and also that it's not known where he's from, consider that Midsouth management probably had no idea where Uganda was. To prove this, I present the court with Exhibit A,
Akeem the African Dream,
who happens to be white and looks a lot like Bob Seger. Apparently most wrestling managers think Africa is a truckstop on I-20 near Memphis, so the odds of them having any idea where Uganda is are very slim.
Rowdy Roddy Piper
was the star of "They Live", the 80's schlockfest about lizard faced aliens that could only be seen with "Rowdy Roddy Ray-bans" available from Rowdy RodCo for $19.95.
Ric Flair
was the 50 year old guy with bleach blonde hair who was always yelling "WHOOOOOO!!" for any or no reason whatsoever.
Please check out the Ric Flair soundboard.
Andre
is of course the guy who is on the
stickers that adorn every stickerable object in half of the known world.
Who I was really looking for was
Junkyard Dog.
JYD was the shit back in the day. Every retarded 7th grade after-school fight began with a pre-fight prologue where each combatant described the JYD moves he was about to unleash on his opponent. (Usually the pre-fight shit-talking lasted about 20 minutes, actual fight about 20 seconds.) JYDs latter days were apparently a pretty sad spectacle, with him showing up in Cafe 101 of all places, trying to sign autographs on napkins for money, and failing that, borrowing money from the employees then disappearing. He died in 1998 in a car wreck in Mississippi. Here he is in his glory days.
But the coolest thing I found by far is
The Sheikh.
He apparently was big in the late 50, 60's, and early 70's, so he would have been pretty much done by the 80's. But his pictures attest to his utter awesomeness.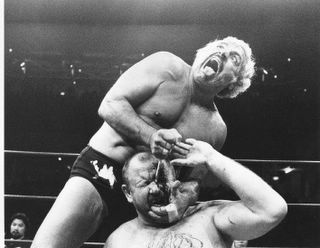 The Sheik, king of crazy facial expressions. Yes, he is stabbing the other guy in the face with something.



The Sheik again. Yes, he is sawing away on the bald guys head with a knife.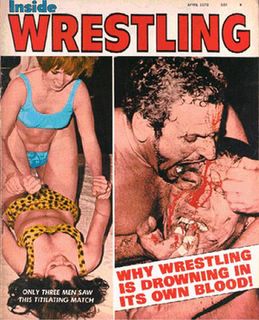 This time he is gnawing on the other guy's face. By the way, this is the best magazine cover ever. Titillating match, indeed.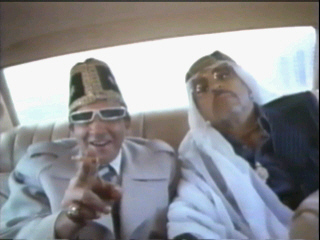 The Sheik and his manager. The manager guy was supposed to be the incarnation of evil. Only in professional wrestling could a character resembling a Devo roadie be used to personify evil.

Now, meet me in the commons area after class, bruh, I'm going to DDT you like JYD did to
Ted Dibiase
at Blackham Coliseum, cooz!