Cool old skate photos
Margaret B sent in some more fine photos of the old skate scene. There's one of the Get Wet jam where whoever Tony Mag was with before H street came through. Uncle something maybe? Also a pic of Sal at John Wayne it looks like, and one of what I think is the ramp that used to be out by Acadiana mall.
Ricky Williams, Tony Magnusson, Jonathan Simon (?) at the Get Wet jam 1988(?)
Mike Vallely, John Morrow, Jon Jenkins watching Sal Barbier at John Wayne(?)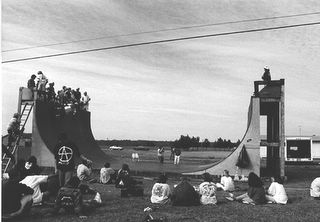 The ramp that was out by the mall (I think). Anyone remember the name?
Also, Dege said that it's George Brown in
this photo,
who would be Danny Hall's cousin, and who was in NoMoreFun and the Lower Chakras and is now the drummer for the Roebucks. Dege says he was the undeclared king of Baton Rouge punk rock skating back in the day.
Here are a few things I found on the WFMU blog.
This bike battle thing
by the blacklabel guys was last weekend. And I missed it, dammit. The site also has Chicken Shit Bingo in Austin. Also,
Japanese cleavage pillows,
crotch pillows,
and
poop hats,
the German albino Elvis,
and the latest Dshinghis Khan find.
You can thanks Station Manager Ken for most of those.